Air pollution and carbon dioxide have been linked together since the global warming debate began some 25 years ago.  It's the big lie in the climate game that won't go away.  Al Gore's film video cover art is a perfect example of the faux reality we all live with.  Pollutants from factories and carbon dioxide pollution are shown and one and the same.
Carbon dioxide is colorless and odorless, which is why it acts as a greenhouse gas.  Since it is colorless and odorless it makes a boring picture.  The material coming from the smokestack is either water vapor or visible pollution.  Chemicals in air pollution can cause cancer, and can make air unsafe to breathe for people at risk.  Carbon dioxide is beneficial.  Greenhouses add carbon dioxide to their microclimate to make plants grow faster.
Traditional air pollution is neither colorless nor odorless.  Newspaper articles regularly feature a polluting factory photo while discussing carbon dioxide issues.  It's the big lie that wont go away.
There really is a big difference between air pollution and carbon dioxide. When I visited Shanghai, my eyes watered and I had a sore throat my entire stay. Beijing has air pollution many time worse than Shanghai.  Particulate matter floating around  Beijing's air causes immediate health problems for its residents.  People are warned not to leave their homes on bad days.  The health risk is immediate and real.  Ironically, visible air pollution shields the surface of the Earth from the Sun, reflecting the Suns energy back to space.  Air pollution makes the world cooler, carbon dioxide is a greenhouse gas, helping to keep the world warm.
We as a society need to distinguish between traditional air pollution and carbon dioxide.  Air pollution is an immediate health problem; carbon dioxide makes the world a bit warmer than it otherwise would be and is necessary for life on Earth.
Global warming is presumed to be bad.  If the Earth warms fast enough, and then stays warm for a really long time, there will be many environmental consequences.  Some will be good, many will be bad.  People living near the ocean will get wet.  A little warming is not to be feared, the warming we have seen in modern times has been on balance, good for mankind.   250 years ago the world was a degree C cooler than it is today.   Were we to have that climate today, we'd have difficulty feeding the worlds population.
Imagine what the world would be like if it were say….10 degrees C cooler, as it was just 17,000 years ago.
Climate scientists presume that the warming we have right now is just right for society.  The world is not too hot, it's not too cold, it's just right.   The tree bears would be proud.
If we did everything just right, exactly as the scientists at the UN want us to, would the world stay just right?  No.  The ecosystem is too dynamic.  It changes all by itself all the time.   The world warmed 10 degrees all by itself some 15000 years ago.  It could start cooling next week or a century from now or a thousand years  form now.  Most of the time in the last 2.5 million years, the world has been has been cold, 5 to 10 degrees colder than it is today.  We live in the Holocene, an 11,000 year long warm spell.   There is no guarantee it will last, no matter what we do.
That said.  We should try to be good stewards of our planet.  But nobody knows how warm we'll be 500 years from now.  NOBODY!
Global warming theory has been simplified.  The dumbed down version  goes something like this.  Man produced carbon dioxide (and methane and other greenhouse gases) is changing the amount of carbon dioxide in the atmosphere.  Carbon dioxide is a weak greenhouse gas, so it only warms the planet a little.  This warming is enough to cause an increase in water vapor.  Water vapor is an effective greenhouse gas and that warms the planet more rapidly which causes even more water vaper (the proverbial tipping point) and then we have rapid warming.
Should increased water vapor cause an increase in clouds, the impact would be mitigated as clouds near the surface cool the environment.  Interestingly, the world has been warmer than it is today in the recent past (120,000 years ago) and we did not spiral out of control then.  Maybe the earth won't warm as much as predicted.
The worlds ecosystem is extraordinarily complicated with many many variables (solar cycles, variations in the earth's orbit, the solar winds, positions of the continents, volcanic eruptions, changes in circulation of oceans).  These variable have been linked to past ice ages.   The Earth's climate may appear stable, but it isn't.  Wild variations are a part of climate history.  Natural variation exasperates an already difficult science problem.  It is extraordinarily difficult to ascertain a specific cause and effect for any individual variable.  Wild ass guessing is a job requirement in climate science.
Both carbon dioxide and water vapor are building blocks of life.   If they go away bad things happen.   During ice age cold cycles, carbon dioxide levels get very low. They were scarily low at the end of the last ice age cycle some 20,000 years ago.  Low carbon dioxide levels slow plant growth.  Clearly too much is better than too little.
Carbon dioxide has been declared a pollutant by some because it has been presumed to be the deciding factor in climate change.   Any honest debate about climate change must begin with the notion that carbon dioxide is one of many many variables.
Still in doubt.   Carbon dioxide has been steadily rising since the beginning of the industrial revolution as this graph demonstrates: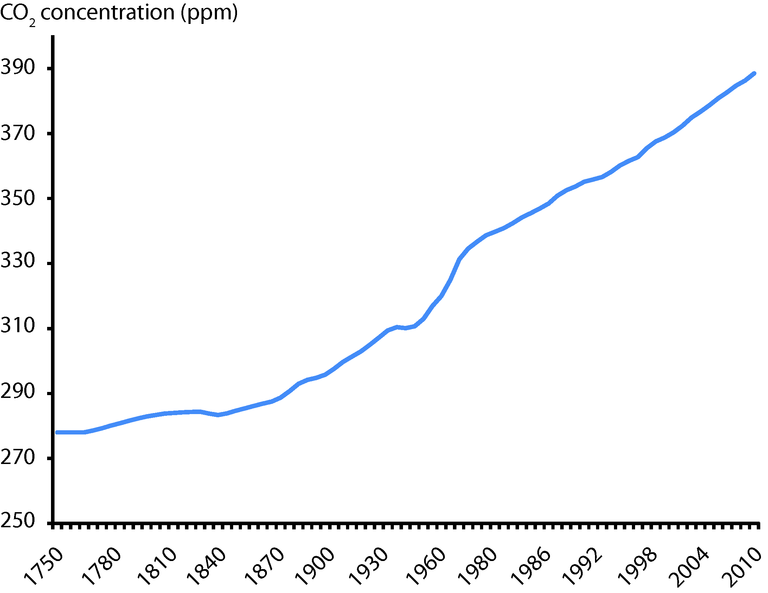 Temperatures have been  more erratic.  The correlation is less than perfect.  Temperature has done next to nothing since 1998 as carbon dioxide has been steadily rising. During the period from 1940 to 1978, temperature went down while carbon dioxide rose. Don't take my word for it, compare the chart above with the chart below courtesy of East Anglia University:
Still doubtful,  lets take a really long view and look at data from an Antarctic ice core with both temperature and carbon dioxide plotted. The chart that follows is the Vostok Ice Core  with carbon dioxide and temperature plotted together:
Carbon dioxide and temperature share a similar shape, but can go in opposite directions for thousands of years before following each other again. About 400,000 years ago carbon dioxide and termperature were out of sync for about 10,000 years. More often than not, carbon dioxide appears to be a following rather that a leading indicator. Temperature peaks first, begins down and then carbon dioxide follows it down.
The data does look a bit different in the most recent past.  Carbon dioxide is going up faster than temperature which is probably the result of recent activities by man.
Carbon dioxide is regarded as a pollutant because it is assumed to be a leading cause of catastrophic warming a few hundred years from now.  There might be a more than a bit of guessing behind that assertion.   The impact carbon dioxide plays is difficult to quantify.  Past efforts have a poor track record with many missteps.  The science is less clear than most people think.
One thing is  certain….carbon dioxide is a specific and different science experiment than is air pollution.  Sometimes the two come from the same source, like a volcano or a coal fired power plant, but the data leads in different directions.  One is a clear immediate health risk,  the other probably will contribute to a warmer world.  Exactly how much carbon dioxide contributes to warming is a very difficult mathematical problem.
Today the New York Times ran an article with global warming in the title, and a discussion of health issues including Asthma in the text of the article.   The article was about air pollution.  The title was a poor editorial choice.  The Times was mixing normal air pollution and carbon dioxide emissions together as if the subjects were one and the same.
Some carbon dioxide is good, too much, probably not so good.  When does it stop being beneficial and start being a problem?  Do we have too much now?  Would the world be OK if we let carbon dioxide get 100 or 200 ppm higher than it is today.  The last 100 ppm seemed mostly beneficial?  How much is too much?
Most pollutants in the world are just bad.   No amount of Smog is beneficial.  Maybe we need a new name for whatever carbon dioxide is because air pollution is the wrong label.   An essential ingredient for life has been labeled as if it were a poison.